Anonymous Ensemble's Llontop celebrates indigenous Quechua culture and language and features the song poems of Quechua poet Irma Alvarez-Ccoscco. The piece is an intricately interactive installation of Peruvian heirlooms and a live film performance for both in-person and virtual audiences.
For the development of Llontop, the core members of Anonymous Ensemble (Lucrecia Briceño, Eamonn Farrell, Liz Davito, and Jessica Weinstein) are joined by director Ashley Tata, composer Paul Pinto, and poet Irma Alvarez-Ccoscco. Irma is a Peruvian Quechua language poet and digital language activist who came to the United States via a fellowship at Smithsonian's National Museum of the American Indian.
The form of the piece is an evening-length, real space, and live streaming performance that layers music, poetry, and intricate media programming. The physical environment of the performance is an installation of objects that were handed down to Eamonn from his Peruvian grandmother that includes a collection of purportedly pre-Columbian pottery. The audience is invited to use their own mobile devices to frame and "recognize" specific machine learned views of the objects that will then trigger podcast-style audio content to stream to the audience member via headphones for an individualized audio journey through the installation. This interactive content serves to contextualize Irma's poetry in the performance portion of the work.
Irma Alvarez-Ccoscco's haunting song poems are set in specific moments in Quechua history from the brutal conquest of the Incas in 1532 through the eighteenth century indigenous uprising of Tupac Amaru II, and on up to the present. The dates for each poem are presented to the audience through luminescent khipus, the pre-conquest Andean technology that used a complex system of knotted cords to store data. The poems are performed using Anonymous Ensemble's signature "live film" aesthetic with live mixing of multiple camera feeds, live projections, a lush soundscape, and a simultaneous live stream of the performance to online audiences throughout the world.
Download Full Llontop Info Sheet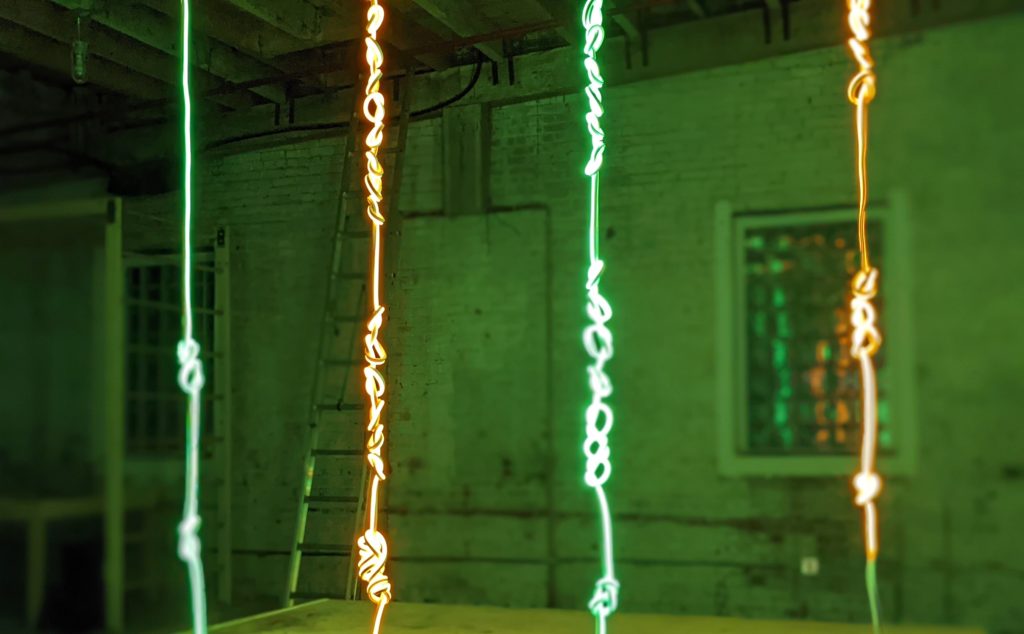 Llontop was made possible with funding by the New England Foundation for the Arts' National Theater Project, with lead funding from The Andrew W. Mellon Foundation and additional support from the Doris Duke Charitable Foundation, the New York State Council on the Arts with the support of Governor Kathy Hochul and the New York State Legislature, by public funds from the New York City Department of Cultural Affairs in partnership with the City Council, by Net/TEN, and by the A.R.T./New York Small Theatres Fund with Production design support provided by the Edith Lutyens and Norman Bel Geddes Design Enhancement Fund, a program of the Alliance of Resident Theatres/New York (A.R.T./New York). The production has been developed through generous residencies at Royal Family Theater, Coffey Studios, Mayday Space, Eastern Mennonite University, The Princeton Quechua Workshop, The Ammerman Center for Arts and Technology at Connecticut College, and two ASAP Residencies at Pregones/PRTT.